Gold Tower
apartment Vazhakkala
12:49 PM Saturday, 23 July 2016 (GMT+5:30) Time in Kochi, Kerala Date in Vazhakkala, Kakkanad, Kochi, Kerala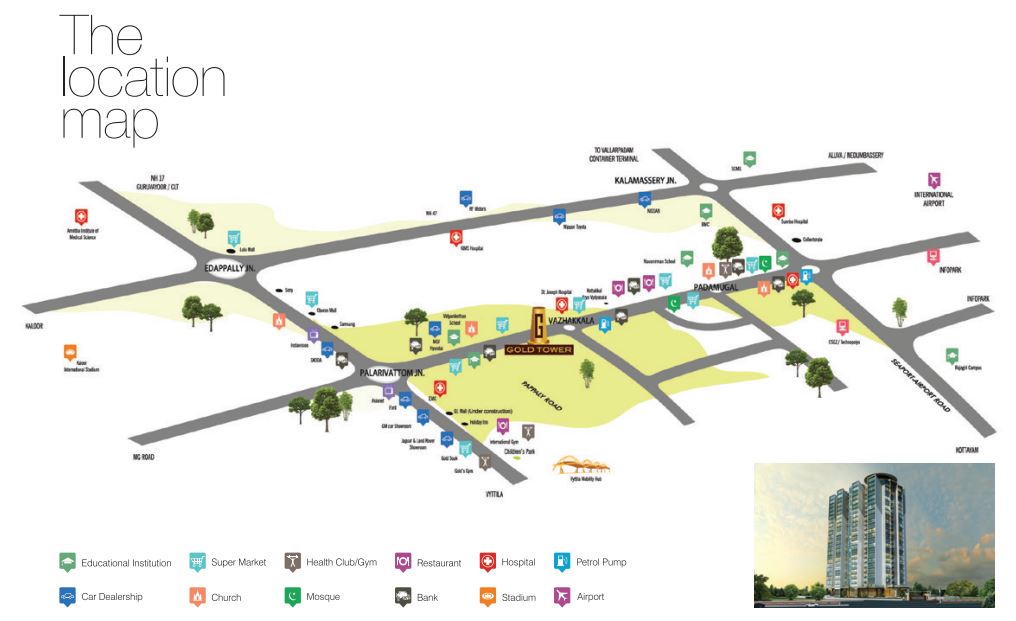 Our Location
real estate developers cochin
Gold Tower will come up in Vazhakkala, the nerve-centre of expanding Kochi, at a prime location that is easily accessible and just a stone's throw away from all conveniences.
As a global enterprise, our greatest asset is the trust our customers have placed in us, and we are committed to honouring that trust in our real estate venture as well. Our commitment to ensuring Gold Tower is everything we claim it will be is unwavering, and we will extend the same level of commitment to our future projects as well.
The Joyalukkas Group enjoys a sterling reputation for quality. Its real estate wing Joyalukkas Lifestyle Developers fully intends to live up to the reputation of the parent company by maintaining the highest standards of quality at every stage in construction and design. With very stringent internal and external vigilance measures and quality checks in place, there is no room for compromise or error when it comes to delivering impeccable quality. The customer can be rest assured that what is promised will be delivered, even in the unlikely event of overshooting the proposed budget. Our external contracts will be assigned after much scrutiny to qualified professionals and service providers who meet ISO standards, to ensure that quality concerns do not arise.
Real estate in Cochin kerala
Gold Tower properties is becoming the golden stone in the real estate field.Best features of gold tower steps a ahead than the other realestate builders. for the Jetsetting league,here's the icing on the cake. A roof-top helipad with state-of-the-art landing facilities.So when you want to fly in, just do it. Gold Tower is studded with arrange of futuristic features. provides the innovative FTTH(Fibre To the Home),Hi-Speed ,$ passenger elevators with capacity to carry 10 people each.
Luxury property for sale
Our luxury real estate property for sale in vazhakkala , kakkanad, kerala.Which is a soaring 22-Storey Skyscraper Everything about Gold tower is truly world-class. Joyalukkas lifestyle developers is a reliable Flats and Villa Real estate developers in COCHIN. Joyalukkas has always been taken care to give value for money and big appreciations for living solutions of all customers for luxury and premium, homes, flats, apartments, luxurious properties,